PRACTICE TEST 2
Section III : : Verbal Section
EXPLANATORY ANSWER.
E
An analysis of the five given statements easily leads us to the understanding of the relationships among the five individuals. From statements II and IV we know that Philip and Samuel must be sitting at the ends. From statement V we learn that Jerry must either sit next to Samuel or in the middle. If Jerry were to sit in the middle, however, then Oscar could not sit next to John, which contradicts statement III. Therefore, the only two possibilities are Samuel - Jerry - Oscar - John - Philip, and Samuel - Jerry - John - Oscar - Philip of these two, only the first is offered as a choice. Therefore, choice E is the correct answer.

C
It can be observed by analyzing the five statements as described in the previous solution, that the two seating possibilities are Samuel - Jerry - Oscar - John - Philip and Samuel - Jerry - John - Oscar - Philip. By checking each one of the choices against these possibilities, it is apparent that the correct answer is choice C.

C
It is most probable that students are excused from Freshman composition if they demonstrate superior writing ability. Thus, being excused is an effect, not a cause, of their writing well; but the argument, in assuming that dropping the course will improve everyone's writing treats it as if it were a cause. Choice A is incorrect - the first sentence in the argument may be true or false, but it is a factual statement. Choice B is incidental the choices D and E focus on incidental features which might be important basic reasoning were valid.

B
All choices except choice B suggest that Freshman composition has educational value and can help to improve writing skills. Choice B suggested just the opposite.
Analysis for Questions 5-7
Preliminary analysis for Questions 5-7
Draw a table of possible combinations. Denote owners Earnest by E Tom by T, Andrew by A, and Bill by B, Denote the colors gray by (G), violet by (V), mauve by (M), and orange by (O).
From statements 2 and 3, we find that E must be in the second slot and that T must be in the third slot since T cannot be an "end" house. There are, then, two possible house position combinations:

Now, as Andrew owns the mauve car and Bill owns the gray car, we find the possible cottage position - and car color combinations to be in the following position.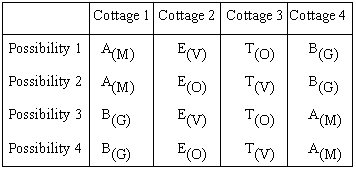 Index
Test 2

Section 1 : Verbal Section
Section 2 : Quantitative Section
Section 3 : Analytical Section
Section 4 : Quantitative Section
Section 5 : Verbal Section
Section 6 : Analytical Section
Answer Key To Test 2
Answer Explanation To Test 2
Section 1 : Verbal Section
Section 2 : Quantitative Section
Section 3 : Analytical Section
Section 4 : Quantitative Section
Section 5 : Verbal Section
Section 6 : Analytical Section