Support the Monkey! Tell All your Friends and Teachers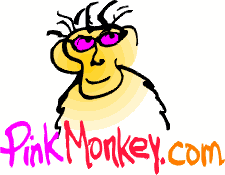 Standardized Test Preparation
Whether you are in New York getting ready for the Regents, or in Texas, studying for the TAAS, PinkMonkey.com is here to help. We are currently looking for more test preparation material to bring to our members. In this section, you will find links to everything from testing dates to actual practice tests.
To begin, please select a state below...

Featured States with additional Testing Info
State links directly to the State Education Agency
To begin studying for the SAT, click here.

All Contents Copyright © PinkMonkey.com
All rights reserved. Further Distribution Is Strictly Prohibited.
Advertising | Contact Us | Privacy Policy | Home Page