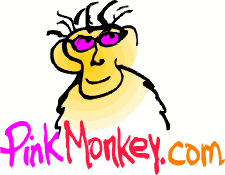 PinkMonkey.com Digital Library
Listed below are the DigitalLibrary files matching your request. Most files are provided in PDF format.
In order to view and/or print PDF files, you must have Adobe Acrobat Reader installed on your computer.
For more information on Adobe Acrobat Reader and/or to download the program, click here.
Search Results for Titles under H
Heroes
Author: Kingsley, Charles
Size: 441k
Horrors
Author: Carroll, Lewis
Size: 6k
Huckleberry Finn, The Adventures of by Mark Twain
Huck Finn
Read Online
Hymn
Author: Poe, Edgar Allan
Size: 6k