B
Refer to schedules 1 and 2, since the painter works on Thursday. According to the schedules mentioned, the electrician works on Friday. Hence choice B is correct.

C
Since the painter works on Friday we must refer to schedules 3-8. According to the question we must look for a false statement. Choice A is wrong because according to schedules 6,7,8 carpenter may work on Wednesday. Only choice C is correct because it is a false statement. The schedule chart can simplify the matter. Supposition chart for an 19 - assuming the painter to be working on Friday.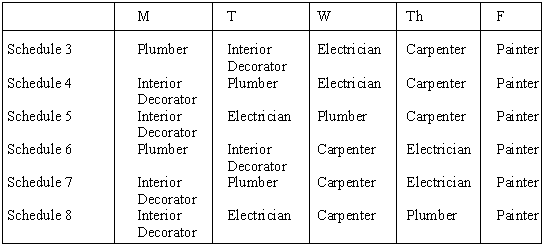 Click here to enlarge
E
It is possible to have the carpenter working on Wednesday and the plumber on Thursday. The chart reveals the schedule keeping in mind the three restrictive statements. Choice E is best answer.
Index
Test 1

Section 1 : Verbal Section
Section 2 : Quantitative Section
Section 3 : Analytical Section
Section 4 : Quantitative Section
Section 5 : Verbal Section
Section 6 : Analytical Section
Section 7 : Verbal Section
Answer Key To Test 1
Answer Explanation To
Test 1
Section 1 : Verbal Section
Section 2 : Quantitative Section
Section 3 : Analytical Section
Section 4 : Quantitative Section
Section 5 : Verbal Section
Section 6 : Analytical Section
Section 7 : Verbal Section