Support the Monkey! Tell All your Friends and Teachers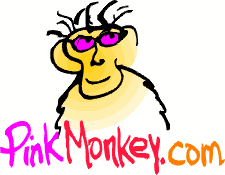 We have established a large and loyal following among students, teachers, parents, and home schooling parents because of our valuable content and the manner in which we present it.
Unlike most of the other sites that attract teenagers on the Internet, PinkMonkey is very proud of the fact that we are a "G rated", child-safe, and teacher approved site. We have made it our top high priority to only carry content that is suitable for all ages. Parents and teachers can be comfortable in recommending PinkMonkey.com site to anyone, as we do not and will never feature the adult language and sexual themes that are so commonplace today on almost all teen and college sites.

That unique commitment, along with our enormous content, sets us far apart from most of the other "education" sites on the Internet today.
Company Info
Advertising
All Contents Copyright © All rights reserved.
Further Distribution Is Strictly Prohibited.