Support the Monkey! Tell All your Friends and Teachers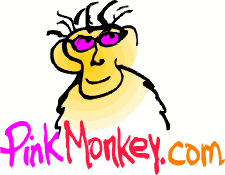 PinkMonkey.com Digital Library
Listed below are the DigitalLibrary files matching your request. This file is provided in PDF format.
In order to view and/or print PDF files, you must have Adobe Acrobat Reader installed on your computer.
For more information on Adobe Acrobat Reader and/or to download the program, click here.
Romeo and Juliet by William Shakespeare
PDF file, 148k
All Contents Copyright © All rights reserved.
Further Distribution Is Strictly Prohibited.