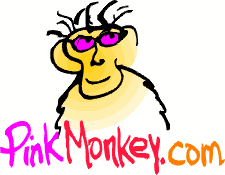 PinkMonkey Electric Desk

Back to Table of Contents
Lesson #3 - Planning Time And Effort
Systematic Study means using your time well. If you carefully plan your time and use your best skills, you will learn the most in the least time. The main point of time and effort planning is to choose the best way to meet your obligations in the time available.
Q: What is time planning?
Time planning means to look ahead to see what you must do and what you want to do. For school success, you will want to use three different time categories.
TERM PLAN
Begin with a large time unit such as a semester, a six or nine week grading period, or a full school year. Develop a schedule of what you must do during this time.
Be sure to consider your goals and the time needed to meet them. You will want to include all papers, tests, projects, and other activities. Put these on a calendar. You can use Form 3.1, buy a calender at a stationery store, or make your own.
WEEKLY PLAN
Next, you want to be more specific about how you use your time. So, using your large time schedule as a reference, schedule your activities at the beginning of each week.
This schedule can be more specific and complete than your term calendar. As your teachers give you more assignments and homework, you can include these in your weekly schedule.
A good time to make a weekly schedule is on Sunday before the school week begins. On this schedule, include everything you know and think you must do.
For example, if your math teacher gives homework most days, you can include math even though it has not actually been assigned. If you have a certain amount of reading you think you will have to do to keep up in history or science, you should also include this. For example, if your biology teacher covers a chapter each week; you can divide the reading so you do some each day.
Think this way for all your school subjects. Schedule all the study you need including tests, papers, etc. that are due for each subject. You can use the weekly planner (Form 3.2) to make this schedule.
DAILY PLAN
Finally, you will want to make a task list for each day. What you actually do each day is very important because this is how you act to meet your goals. Your daily task list should be based on your weekly planner and all additional obligations.
This task list should be very specific for what you must do, when you should do it, and the goals you will meet. Some examples are below:

You should do a task list every day to ensure that you meet your goals. This will prevent you from wasting time and help you focus your attention and concentration. You can use Form 3.3 to make your task list.

Q: Should you only plan academic tasks?
No, your task list should include all the activities you must do each day. You can include athletic practice, social events, and even television shows you want to watch in your daily plan.
Planning your time will allow you to coordinate all the things you have to do with the things you want to do. It is a good idea to get in the habit of planning your time and effort. Planning is a way to make yourself successful now because you will surely need to plan later.

Q: How can you get started?
Begin to plan by developing a calendar for yourself. Use the Month Calendar (Form 3.1) to make a schedule for each month of the whole school term. Include all the events, assignments, and obligations you know of on this calendar. Then, put the calendar close to where you study so you can see it.
When you have finished your term calendar, prepare a weekly planner (Form 3.2) for the next week of school. Think through each subject you are taking and write on the planner what you must do in each.
You can include pages you must read, regular homework, papers due, tests, and so forth. A main purpose of planning is to spread out and coordinate your activities so you do not have too much to do at once.
If you find, for example, that you have too much to do for Thursday, see if you can do some of the work earlier - on Monday and Tuesday.
Finally, at the beginning of each day develop a task list (Form 3.3) for yourself. Be very specific about what you do and when you do it. Do this every day.
In the next lesson, you will learn how to get the most out of the time you plan for study, so you can learn more in less time.
---

[PinkMonkey.com] ©Copyright 1991, Thomas M. Sherman. Further distribution without the written consent of PinkMonkey.com, Inc. is prohibited.