PinkMonkey Online Study Guide-Biology
(B) Dicotyledons
Hibiscus rosa-sinensis (China rose)
Classification

Kingdom

-

Plantae

Series

-

Thalamiflorae

Sub-kingdom

-

Phanerogams

Order

-

Malvales

Division

-

Angiospermae

Family

-

Malvaceae

Class

-

Dicotyledonous

Genus

-

Hibiscus

Sub-class

-

Polypetalae

Species

-

rosa-sinensis
This is one of the most common members of the dicotyledons and shows all the typical characteristics of the group. It is widely cultivated as a garden plant.
Life Cycle
The life cycle of China-rose is predominantly sporophytic and shows meteromorphic alternation of generations.
a) Plant Body - External morphology (Fig. 15.16)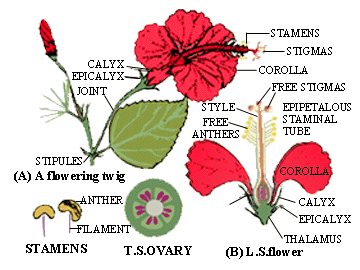 Figure 15.16 Hibiscus rosa sinensis
The plant body of the Chinarose is a diploid sporophyte. It is an erect, evergreen perennial shrub, about 6-8 feet tall. The plant is differentiated into roots, stem and leaves.
The roots form a branched tap root system at the base of the stem. It is an efficient anchoring and absorbing organ.
The stem is erect, hard (woody) and cylindrical with a rough surface. Lateral branches develop in acropetal order. Branching of the stem is alternate.
Leaves develop on the stem at the nodes in an alternate arrangement. Each leaf is simple and has two free lateral stipules at the base. The leaf lamina is entire, ovate with acute apex and serrate margins. Venation is branched or divergent. Leaves are dorsoventral and deep green. The surface is covered with multicellular epidermal hairs.
b) Inflorescence: In Hibiscus rosa-sinensis, the inflorescence is a single flower. The inflorescence axis develops in the axil of a leaf and bears a single terminal flower (Fig. 15.16). The joint (articulation) between the axis and the pedicel is distinctly visible.
The flower (Fig. 15.16B) is actinomorphic, complete, bisexual, and pentamerous (5-petals). The flower has an epicalyx external to the calyx. An epicalyx is a whorl of 6-7 bracteoles which are small, and green.

The calyx consists of five green sepals.

Corolla. Polypetalous (5-petals) are fused with the staminal tube at the base. The corolla is red, yellow, white or pink.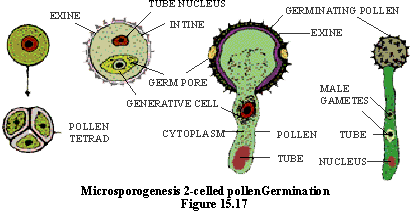 Click here to enlarge