PinkMonkey Study Guide - American History
5. 1 Sectionalism
Sectionalism is the term used to define the sharp socio-economic differences that divided the Northern and the Southern states in the U.S.
Economy in the Northern States
The northern states were slowly being industrialized. Most of the agricultural work in the north was gradually shifting to the western region. From here, farm products were shipped to the north and the south on the Mississippi River. In 1820, with the completion of the Eric Canal, and the expansion of the railway network, the northwest was connected to the north east region. This regional alliance was to play a significant role in the national politics, in the near future. During the early 19th century, the northern states witnessed great changes. Industry and transport had expanded. With the growth of industry, the need for finance was felt. The New York stock exchange became the country's largest center for trade in shares and securities. New York City also became the center for insurance companies, banks and credit agencies.
Southern Economy
The Southern States had not changed much. It was primarily an agricultural economy there. Cotton had become an important crop and was exported to Britain. The leading cotton producing states were Georgia, Alabama, Louisiana and Mississippi. The other crops grown in the south were rice, sugar and tobacco. Farming was carried out on huge farms or plantations as stories and folklore tell us. In reality, however, less than 1/5th of the farmers owned the huge plantations in the south. The sharp difference in the economy of the north and the south led to the rise of serious conflicts on the issues of tariff and slavery. While the northern states advocated high tariff so as to protect their industries, high tariff affected the interest of the farmers of the south.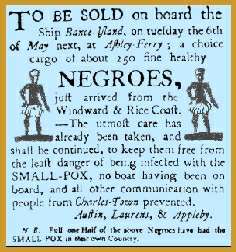 Exhibit 5.1
Advertisements in which Black people were offered for sale just as if they were prize animals.
5.0 - Chronology of Major Events in this Period
5.1 - Sectionalism
5.2 - The Anti-Slavery movement
5.3 - A brief account of the Domestic scene on the eve of the civilwar
5.4 - Events Leading to the Civil War
5.5 - The Course of the war
5.6 - Points to Remeber

Chapter 6