First Page | Next Page ->

Free MonkeyNotes Summary-The Da Vinci Code by Dan Brown-Study Guide
---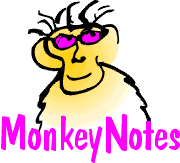 MonkeyNotes Free Online Study Guide Book Notes Summary for . . .
The Da Vinci Code
by
Dan Brown
This Study Guide is currently being revised and reformatted. Please go to our partner site, TheBestNotes.com to view it: Click Here to View It
2003
MonkeyNotes Study Guide by TheBestNotes Staff
Reprinted with permission from TheBestNotes.com
Copyright ©2005, All Rights Reserved.
Distribution without the written consent of TheBestNotes.com is strictly prohibited.
Note-Cliff Notes™,Cliffnotes™,Cliff's Notes™ are registered trademarks of John Wiley & Sons, Inc. We have no relation, other than as a distributor.
---
First Page | Next Page ->

Free MonkeyNotes Summary-The Da Vinci Code by Dan Brown-Study Guide


All Contents Copyright © PinkMonkey.com
All rights reserved. Further Distribution Is Strictly Prohibited.