PinkMonkey Online Study Guide-World History

3.4 Important Geographical Discoveries
The pioneers in the field of adventurous voyages were the Portuguese and the Spaniards.
The Cape-Route to the East
Prince Henry, commonly called Henry the navigator, was a great patron of navigation in Portugal. He had the dream of finding a way to the East by sailing around Africa. Though he did not sail ships himself, Prince Henry established a school in Portugal for navigators, which attracted skillful Italian sailors and learned geographers. He sent out naval expeditions of fighting men, merchants and missionaries. They colonized the Madeira and the Azores Islands, and also explored the uncharted coast of the Dark Continent. Even after Prince Henry's death Lopo Gonsalves crossed the Equator in 1472, and ten years later, Diego Cao found the mouth of the Congo. In 1488, a brave captain named Bartholomew Diaz sailed up to Africa's southern most tip which he named the "Cape of Storms". However on his return to Portugal the King preferred to call it the "Cape of Good Hope" since it gave the Portuguese the good hope of reaching India.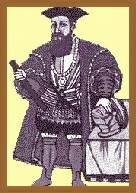 Exhibit 3.1
A Painting of Vasco da Gama
The King's hope was fulfilled in 1497, when Vasco da Gama another Portuguese navigator sailed around the cape up the east coast of Africa, across the Indian Ocean and landed at Calicut in India. He returned in 1499, with a cargo of eastern goods worth 60 times the cost of his expedition. Thereafter, the Portuguese regularly sailed to the East via the Cape of Good Hope, returning laden with rich cargoes of spices, silks and jewels.
3.0 Introduction
3.1 Importance of Geographical Discoveries
3.2 Causes of Geographical Discoveries
3.3 Early Travelers to the Far East
3.4 Important Geographical Discoveries
3.5 The Consequences of the Discoveries
3.6 Dates & Events
3.7 Points to Remember