Figure 15.18 Cross-section of an anatropous ovule showing
structure of an 8-celled Female gametophyte
The ovule is stalked, (Fig. 15.18). A single diploid megaspore mother cell is differentiated in the tissue of nucellus (mega-sporangium). This divides by meiosis and produces a linear tetrad of haploid megaspores. Of these, the upper three degenerate. The basal (chalazal) megaspore is functional and produces the embryo sac. It contains 8-celled female gametophyte differentiated into an egg apparatus at the micropyler end, three antipodal cells at the chalazal end and two polar nuclel in the center of the embryo sac. The egg apparatus consists of one egg cell (haploid female gamete) and two supporting cells called synergids.
Double fertilization (Fig. 15.19A). A number of pollen grains are deposited on the stigmas during pollination. Each one produces a pollen tube on germination. The pollen tube passes through the style, ovary cavity and enters an ovule through the micropyle (porogamy). The tube contains cytoplasm and two male gametes. It penetrates the embryo sac through one of the synergids and releases the two male gametes.
Syngamy : One male gamete enters the egg cell and fuses with it. This is called syngamy or first fertilization, resulting in the formation of a diploid zygote from the fertilized egg. Zygote forms the embryo in the seed.
The two polar nuclei fuse together and form a diploid secondary nucleus.
Triple fusion : The second male gamete fuses with the secondary nucleus (2n) to form a triploid primary endosperm nucleus (PEN). This fusion is called triple fusion or second fertilization. The PEN forms endosperm in the developing seed.
Syngamy and triple fusion together represent the phenomenon of double fertilization. It is a characteristic of angiosperms only.
The fruit and seeds: Soon after the double fertilization, the ovule starts developing into a seed. The zygote gives rise to a dicot embryo. The nutritive endosperm develops from the PEN. Thus, it is a triploid and post fertilization tissue. The integuments form the seed coat. A mature seed of Hibiscus rosa-sinensis is dicotyledonous, endospermic and hairy (Fig. 15.19B).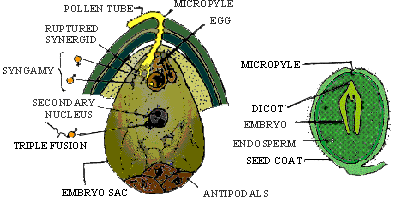 Figure 15.19 (A) An embryo sac and part of ovule
enlarged showing double fertilization.
(B) Structure of a seed