Diagonal Relationships :
On moving diagonally across the periodic table, the elements show certain similarities in their properties which are quite prominent in some cases as shown below. This is called a diagonal relationship.

Classification of elements on the basis of electronic configuration:
From the view point of electronic configuration the elements can be subdivided into four major sub groups (Figure 1). They can be classified as s,p,d and f block elements.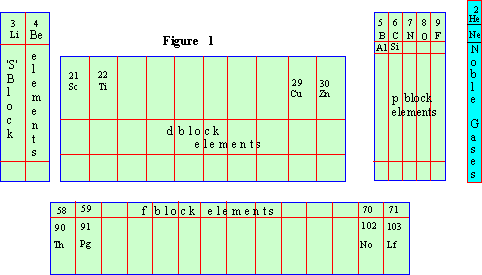 1. s-block elements : These have two atoms and include groups I A & II A. They contain one or two electrons in their outer S-orbital. Strongly electropositive metals. The group I A elements are alkali metals. Elements with two electrons in the outer orbit are called alkaline earth metals.
2. p-block elements : The elements from groups III A to VII A are included in this type. These are generally non-metals. These elements are generally non-conductors with the exception being Silicon and Germanium which are semi-conductors.
3. d-block elements : These are the elements in which the last electron is placed in d-orbital of penultimate energy level. These elements are also known as transitional elements. All are metallic and have high melting and boiling points. Good conductors of heat and energy.
4. f-block elements : The transition elements in which pre-penultimate f-sub orbital is being filled up are called as inner-transition elements. There are two series of these elements :
1) Lanthanides & 2) Actinides. Their compounds are colored and are usually paramagnetic.
5. zero-group elements : Earlier these elements were known as inert or Noble gases. They are chemically unreactive. They are incapable of forming any chemical compounds.