10.5 Standing or Stationary waves
If a taut string that is held fixed at its ends is suitably plucked, then the visual pattern of a loop (which is an optical illusion) is observed to be formed between the fixed ends. This and similar phenomena are due to the formation of standing waves. The standing waves are formed due to superposition of two waves having the same characteristics but traveling in opposite directions along same path.
The analysis of standing waves can be obtained from superposition of two traveling harmonic waves. This is as follows :
The equations of the waves traveling along +ve and -ve X- axis having same amplitudes, wave lengths frequencies and velocities can be written as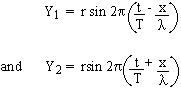 \ The Resultant wave equation according to superposition principle is,
where A= 2r cos

is the resultant amplitude and

is the angular frequency of vibration of each particle.
The amplitude A = 2r cos

is position dependent, the formation of Nodes-points at which no vibrations- and anti- Nodes- points at which vibrations with maximum amplitudes occur in standing wave. The Equation Y = A sin (wt) ; A= 2r cos

is called the equations of the standing wave.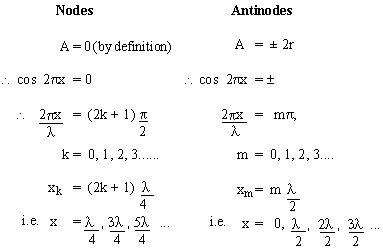 It is obvious that between any two successive nodes, an anti-node and conversely between any two successive anti-nodes a node, occurs exactly in the middle. The nodes and anti-nodes are formed alternately with separation of l / 4 and the distance between successive nodes and anti-nodes is l / 2.