(ii) Formation
It will be recalled that the League of Nations had been established after the First World War primarily with the similar objective establishing permanent world peace and preventing the occurrence of another world war. However, the organization failed to miserably on these counts and the Second World War did occur. Therefore, this time the nations of the world decided that the next organization should be empowered with more authority, so that the aim of establishing permanent peace could be efficiently enforced.
In August 1941 the Atlantic Charter was issued by the U.S. President Roosevelt and the British Prime Minister Churchill. This was an important document that underlined the aims of the organization:
1. The maintenance of international peace and security.
2. The encouragement of international cooperation in the sphere of social, economic and cultural development of the world.
3. The development of friendly relations among nations on the principle of equal rights and self-determination of peoples.
4. The recognition of the fundamental rights and status of all people.
In October 1944, a scheme for the establishment of an international security organization was discussed at Dumbarton Oaks Conference held in Washington. The next step in this direction was the Yalta Conference held in 1945 in which the U.S. President Roosevelt, the British Prime Minister Churchill and the Soviet Prime Minister Stalin met to resolved to call for a session of the United Nations. The nature of the organization was also determined at this conference. Following this, a conference of about 51 countries was held in June of 1945 at San Francisco and a charter was drawn up. The representatives of these countries signed the charter on June 26, 1945. The U.N.O. started functioning from 24th October, 1945. This day is therefore celebrated as the United Nations Day. Its headquarters was based at New York.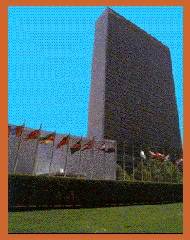 Exhibit 18.4
The United Nations headquarters in New York City
The membership of the U.N.O is open to all peace-loving nations, which accept the objectives of the U.N.O. and are prepared to observe its principles. A total of 184 nations were members of the U.N.O. by 1994.