1.3 The Constitutional Convention
The Philadelphia Convention was in session from the end of May to the middle of September 1787. It was organized to rework the Articles of Confederation. 55 delegates attended, though only 39 signed the finished Constitution. Only twelve states were represented since Rhode Island refused to send a delegate.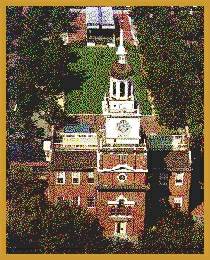 Exhibit 1.3
Independence Hall
The convention was held at Independence Hall and was represented by governors, lawyers, judges, merchants and landowners, such as Alexander Hamilton from New York, Benjamin Franklin from Pennsylvania, and James Madison called "The Father of the Constitution" and George Washington from Virginia. The two main plans of union presented at the convention were the Virginia Plan and the New Jersey Plan.
1.3a The Virginia Plan
The Virginia Plan provided for a bicameral Congress. In both of the houses the states would have representation based on population. While the Lower House was comprised of representatives elected by the electoral, the upper house was selected by the lower legislature. In addition to the existing powers of the Congress, it could legislate in the cases in which the separate states were incompetent or in which "The harmony of the United States may be interrupted by the exercise of individual legislation." It could also veto the state laws, which violated the Constitution. The Congress could choose "National Executive." It provided for a "national judiciary". The executive and judiciary were to constitute a "council of revision" with a veto power over the Congress. However the vetoes could the overruled by a subsequent vote of both houses.
1.3b The New Jersey Plan
The New Jersey Plan retained a unicameral Congress in which the states would have equal representation. The right to tax and to regulate interstate commerce was also added to the existing powers of the Congress. The power to elect a "Federal Executive" was given to the Congress. Provision was made for a "Federal Judiciary."
The most striking proposal in the New Jersey Plan was that federal laws and treaties were to be "The supreme law of the respective states."