16.3 Laws of Refraction at Plane Surfaces, Refractive Index and
Critical angle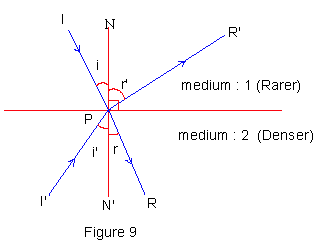 The ray of light bends towards (away from) the normal when it enters from rarer to denser (denser to rarer) medium. This bending of length is called refraction.
The laws of refraction are :
(i) Incident ray (IP) & Refracted ray (PR) lie on either side of the normal (MPN') to the boundary of separation.
(ii) IP, NPN' & PR lie on the same plane which is called the plane of incidence.
(iii) i (angle of incidence) > r (angle of refraction), when the light enters from rarer to denser medium and i' < r' for the converse case.
(iv) Sine of i bears constant ratio to sine of r for the given pair. The constant is called the refractive index of medium 2, with respect to medium 1.