5.3 Similar Polygons
Polygons are said to be similar if :
a) there exists a one to one correspondence between their sides and angles.
b) the corresponding angles are congruent and
c) their corresponding sides are proportional in lengths.
Consider the polygons ABCD and LMNO in the figure 5.1.

Figure 5.1
Their corresponding angles are equal but their sides are not proportional. Hence they are not similar.
Now the sides may be proportional but the angles may not be congruent. For instance we have polygons like PQRS and HIJK (figure 5.2)

Figure 5.2
Again they are not similar.
Thus to be similar polygons must satisfy both, the condition of congruent angles and that of proportionate sides. Figure 5.3 shows some similar polygons.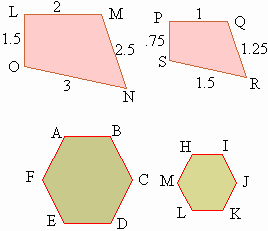 Figure 5.3