A declaration was made in 1938. It expressed the determination of the American states (North, South and Central) to protect themselves against foreign activities that might threaten them. This understanding between the American continents was exemplified when a number of the Latin-American countries declared war on the Axis powers, after Japan attacked the U.S. in December 1941.
Intimate and neighborly association between the U.S. and the Latin-American countries continued. It was expressed in economic accords, providing for beneficial trade in raw materials, in the providing of financial aid and technical skill, and in the inter change of social and cultural interests and activities.
The solidarity of the Pan-American nations was reaffirmed by the Western Hemisphere Defense Treaty, signed at Rio De Janeiro, in 1947.
In recent years, the U.S. attempted to collaborate in the economic development of the countries of Latin-America. The Inter-American Development Bank was established in January 1960 with a capital of 1,000 million dollars, of which 450 million dollars were subscribed by the U.S.
In March 1961, President Kennedy created the Peace Corps on a temporary basis, through an executive order. Many U.S. citizens volunteered to move to Latin American countries in order to help in their development programs.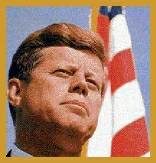 Exhibit 16.10
President Kennedy
The Inter-American Social Progress Trust Fund was raised in June 1961, to carry out President Kennedy's "Alliance for Progress" program and 600 million dollars were provided as American aid to Latin American countries. An important development in the relationship between the U.S.A. and the Latin American countries was the signing of the Panama Canal Treaty. This was signed by President Jimmy Carter in 1977. The U.S.A. had gained control of the Canal Zone in 1903 and this treaty ensured that Panama could reclaim the Panama Canal on December 31, 1999.