11. 11 The Budget
Throughout Eisenhower's 2 terms, there was a constant battle between the President and the Democrats in the Congress over the budget. The question was how much to spend ? In the financial year ending June 1959, the budget deficit was $12,400,000,000 due to heavy defense expenditure. So when the President proposed a budget of $77,000,000,000 for the financial year ending June 1960, the northern Democrats attacked it. The Democrats felt that the amount wasn't enough to provide services to the country or to encourage the economy. The President defended his stand on the Budget and finally won. The government ended the 1960 financial year with a surplus of $1,000,000,000.
The debate on the budget went on creating quite a controversy. This issue and other foreign policy issues became the main topics of debate during the elections of 1960. The 1960, elections, saw John F. Kennedy running as the Democratic candidate for the Presidential past. He won the elections by a very tiny margin. When President John F. Kennedy took the oath of office, in January 1961, he stated in his inaugural speech. "Let the word go forth from this time and place, to friend and foe alike, that the touch has been passed to a new generation of Americans ..." During the first few weeks of Kennedy's administration, he sent several messages to the Congress. Chief among them were his plans for large scale programs to eradicate unemployment; care for old people; provide assistance to schools; conserve nature and natural resources, etc.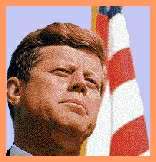 Exhibit 11.3
President John F. Kennedy
Like Eisenhower, Kennedy was also interested in checking excessive expenditures in the budget. However, 2 problems i.e. a mild recession and the communist threat abroad made it necessary to increase the expenditure especially, defense. The chief legislations passed during Kennedy's Tenure were:
The Housing Act (1961) - It provided a total of $4,900,000,000 over a period of 4 years in the form of government loans and grants to develop middle income houses and local transit systems and to preserve green spaces in the cities.
An improved Minimum Wages law - Provided for a gradual increase of the minimum wages from $1.00 per hour to $1.25 per hour. Also, it brought over 3 million additional workers under its coverage. A higher social security benefit was provided, as per the President's recommendations.