11. 15 The Exploration of Outer Space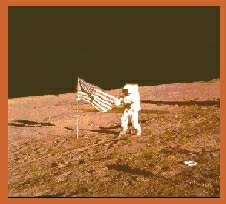 Exhibit 11.4
The US flag is placed on the Moon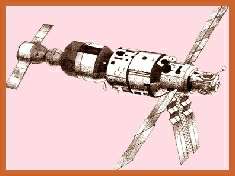 Exhibit 11.5
The Soviet space station MIR
In the 60s, the USSR made spectacular strides in the field of astronomy. By building a rocket booster engine larger than that of the U.S. the USSR marched right ahead in exploring outer space. But the U.S. joined the race and soon surpassed the Russians. While the Russians launched 15 more satellites after the Sputnik, the U.S. launched about 46 earth satellites and space probes.
Some of the U.S. achievements in space are:
Pioneer V, in solar orbit sent radio messages to earth from 23,000,000 miles. This feat indicated that communication between planets was possible.
Transit 1-B and 11A were forerunners of accurate world wide navigational systems, which could operate in bad and good weather.
Midas II was the forerunner of a satellite which could warn the approach of enemy missiles. The horrifying part about the Russian space program was that now Soviet scientists could send five ton capsules into orbit. The rocket booster engines of the USSR revealed that Khrushchev was not talking in the air when he warned that Russia had the military power to rain missiles on American cities.